An extended Biography about Saxophone Player, Alex Canales
A Texas native growing up near Denver, Colorado, Alejandro "Alex" Canales took up the saxophone at age 11. A few years later, he discovered jazz and joined the Colorado Conservatory for the Jazz Arts, attended the University of Denver and New Jersey City University where he studied with such greats as Jim Snidero, Joe Magnarelli and Pete McGuinness.
After his graduation, he traveled around the world playing in showbands on Royal Caribbean and Celebrity cruise ships where he would play production shows and back entertainers who specialized in Motown, Classical, R+B, and rock, while he doubled on flute and clarinet.
Four years later, he decided to study at the University of Nevada, Reno with Peter Epstein. As a graduate teaching assistant, he lectured and graded students while playing in school and local ensembles in Reno and near Lake Tahoe. He subbed for the Reno Jazz Orchestra on many occasions along with the Latin band No Comprende, while he participated in a local outreach program in which UNR jazz students would teach and perform at local Reno high schools.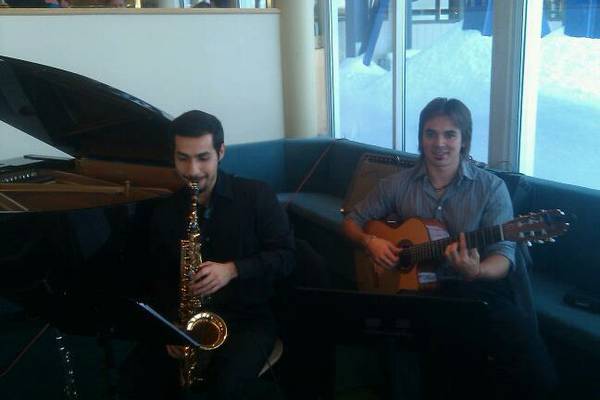 He also led Duo Brasileiro with Lucas Arizu, playing at The Nugget, Squaw Valley, and the West Shore Cafe. During the summers, he took shorter cruise ship contracts and later recorded his first album as a leader, Bluish Hue, in March of 2014 with professors Hans Halt and Dr. Andrew Heglund.
Additionally, he played and recorded music videos with Reno bands such as the Mark Sexton Band, and performed with Jelly Bread in Phoenix and Flagstaff, Arizona. He took a contract on the Celebrity Infinity where he performed off the ship as well at jazz clubs in Reykjavik and Bilbao.
While settling back in Colorado, he took an offer to play on a new musical adaptation of Alice in Wonderland at The Nugget in Reno on bass clarinet. In a short trip to New Orleans, he shared the stage with Soul Brass Band, the historic Treme Brass Band, and even Trombone Shorty. Near Denver, CO he instructed woodwind students for El Sistema Colorado, Music @ Mainstreet and performed with the livetronica band Blucifer's Ghost.