There's a wedding coming up, or maybe a corporate party for your business…and guess who has to arrange the entertainment with a New Orleans band?
YOU!
….and if you've never booked a DJ or a band before, this can be a daunting task.
If you HAVE booked a musical group before, and it was…
shall we say, less than ideal…
well maybe there's something you can learn in this article that will streamline your next event!
The Room
…or lack thereof! Hopefully it goes without saying that larger bands cannot fit in certain rooms. Or that a duo or trio may not provide enough musical energy to get people on the dance floor and shakin' their booties! Maybe there are even multiple rooms that you need multiple groups for, or a logistical changeover that makes it tricky for the band to move from one space to the other.
In any case, here are some basics:
-How many power outlets are there? Is there a limit to the amps they can handle at once? Nothing kills a show like a power outage that could've been avoided…believe me, I've been there!
-Do you want the ensemble to play outdoors? If so, even a slight chance of rain can be devastating. Most bands cannot play in the rain due to potential damage to the equipment or electronics…your safest bet is probably a New Orleans brass band playing a secondline!
-Is there an actual stage in the venue, or perhaps a set of platforms that they can assemble one with? If so, what are the dimensions?
Those are just a few considerations that may eliminate, or promote, some ideas you may have in the ol' noggin!
The Style and Energy of the Band's Music
How well do you know the crowd at your event? Maybe they love dancing to Salsa, Bachata, and Merengue, or having a relaxed conversation with some sophisticated jazz or classical in the background, providing a sort of "sonic wallpaper" for your event.
If you have a wedding, you may need an organist or guitarist for the ceremony, a jazz trio for the cocktail hour, and a Top 40's cover band for the reception! Some bands like Datband offer package deals that can cover all of this and more. Datband, in particular, has years of experience handling the ins-and-outs of weddings from top to bottom while tailoring much of it to the bride and groom. Because that's who it should be about…wouldn't you think?!
As you can see, a wedding starts out with smaller groups and less intensity but can grow into a full-on dance party where you can hear all the hits.
A corporate event may stay in a lower intensity and do well with a smaller group as colleagues get to mingle, or it could feature a hard-hittin' band with several vocalists and a full horn section.
These are all things you should consider within the rooms and performance spaces that are available to choose for the event!
The Budget
Aaaaand here comes the clincher. A friend once told me the reality of hiring a contractor to do a job:
"You can get cheap, fast, or good…pick two!"
So if you want cheap and good, they probably won't do the job fast!
Fast and good, will not be cheap!
Cheap and fast…well, you can figure that one out!
So in the context of hiring bands, you can replace "fast" with "experienced" and elaborate on "good" with "talented." Some bands stay together for years and understand the logistics, but either "phone-it-in" or plateau at a semi-pro level of musical skill. This can still lead to a lackluster performance.
Other bands, even very talented ones, may charge low prices, or even nothing at all, hoping for some tips or connections! However, they might lack experience or not take your event very seriously…is that really worth saving a few bucks over? Just think… if you skimp on the caterers and people get sick, or dislike the food, how would that reflect on you?
Just because the experienced and talented bands aren't cheap, does not always make them unaffordable. I know for a fact that Datband can scale the group down a bit and skip a few of the additional features if your budget is legitimately tight. Then again, those "extra" things tend to be what makes a New Orleans wedding truly memorable!
I Want Numbers!
Well, to keep it simple, a $10K budget can get you pretty much anything you may need
…unless you reallllly want Scott Stapp and whoever is left of Creed to play your wedding…
I think he charges $100K per show…still…somehow…
Can they take you hiiiiiigher?
If you think a solo performer or DJ is all you need, I would imagine that you should still be prepared to pay at least $1000 and have a good rapport with this performer and know what you're really gonna get! Otherwise, you can refer back to the "cheap, fast, or good" trilemma once again. Also keep in mind that you want to pay them enough so that they don't get tempted to take a higher paying gig the same night and skip out on yours! Opportunity cost is a thing.
And that brings me to the brass bands featuring the New Orleans culture bearers…DO NOT try to lowball them! When you see the historic Eureka Brass Band, Knockaz, the Pinettes or the Treme Brass Band, they are always bringin' it and delivering a party you can't really find anywhere else in the world. Be prepared to pay at least $1500 even if it is a short distance for the secondline (plus the cost of the parade permits as well) if you want an experience your event participants will never forget! If you want them to play 3 or more sets for the reception as well, the cost may double depending on the brassy New Orleans band and their rates.
Also, most bands will charge a higher rate the farther they have to travel outside New Orleans. If you're out in Baton Rouge, consider the cost gas going and coming. Texas, Mississippi, Alabama and Florida events should factor in gas, travel time and a possible hotel stay for each band member.
A Short List of Perfect Bands for Your Event
I am working on compiling a more complete list to bring my readers a multitude of options each time they hire a New Orleans band or musician. Here are the categories:
Smaller Ensembles for Relaxing, Sophisticated Events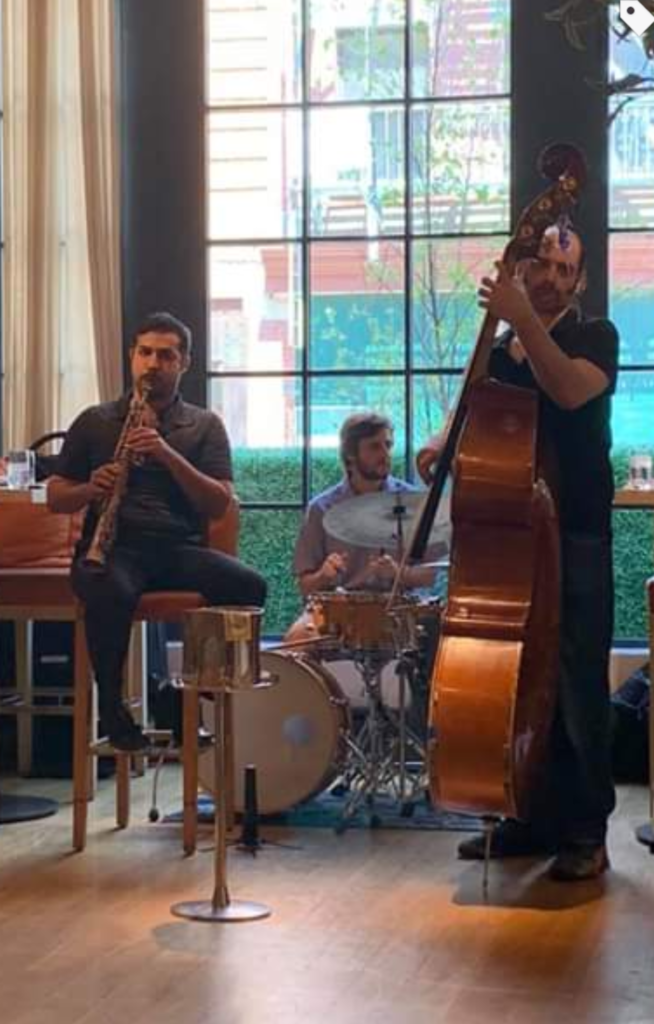 Duo Brasileiro

Orphaned in Storyville (Vocals and Originals)
Mid Size Ensembles for Dancing Events
Sabertooth Swing (4-6 Piece band)
Martin Moretto Quintet
Mid to Large Size New Orleans Traditional Bands
Treme Brass Band
Knockaz
Eureka
Pinettes
Ashton Hines and the Big Easy Brawlers
Hot 8
Large Latin Bands
Armando Leduc y Salsa Royale
Rumba Buena
Otra
Margie Perez and Muevelo
La Tran-K
Larger Bands for Weddings That Play Top 40's Hits
Datband
Auth3ntik (Atlanta Based, Willing to Travel)
Phunky Monkeys
NO Idea
D Play