Discover the Soulful Art of Saxophone Mastery
Let us introduce you to our favorite saxophone teacher in NOLA…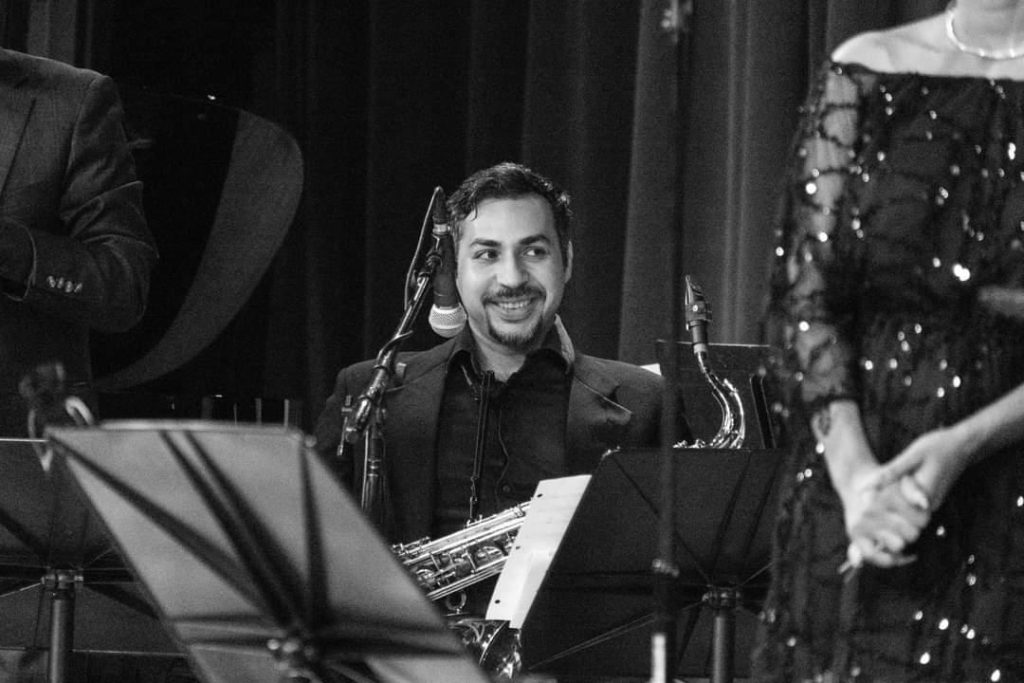 In the heart of the vibrant city of New Orleans…
Where jazz permeates the air and musical legends are born…
You'll discover an opportunity to embark on a transformative musical journey.
An expert mentor who will guide you in unraveling the secrets of this iconic instrument and help you unleash your inner melody.
A Saxophone Teacher with a Passion for Jazz
When it comes to learning the saxophone, there is no substitute for guidance from a seasoned musician with an unwavering passion for jazz.
This esteemed saxophone teacher in NOLA embodies this passion…
Having honed his skills over years of dedication worldwide and immersing himself in the rich musical heritage of New Orleans.
He's not only a teacher…
But also a mentor who understands the nuances of the instrument and imparts wisdom to aspiring saxophonists.
Personalized Instruction Tailored to Your Saxophone Journey
Every aspiring saxophonist is on a unique musical journey, and this exceptional teacher recognizes and embraces this fact.
He approaches each student with a personalized teaching style, tailoring his instruction to suit your individual…
Goals
Skill levels
And learning preferences.
Whether you or your child are a beginner taking your first steps into the world of the saxophone…
Or an experienced player looking to refine your technique…
Alex will guide you on the path to excellence.
Mastering the Saxophone Technique
The saxophone is an instrument that demands both technical proficiency and a deep understanding of musical expression.
This NOLA saxophone teacher possesses a wealth of knowledge and experience in mastering the challenges of saxophone technique.
From breath control and finger placement…
To tone production and improvisation…
Alex arms you with the tools necessary to unlock your full potential and develop your resonant, distinctive sound.
Embracing the Language of Jazz Saxophone In NOLA
Jazz is more than just a genre of music; it is a language that speaks to the soul.
Our saxophone teacher will not only teach you the technical aspects of playing saxophone…
But also immerse you in the rich vocabulary of jazz.
From learning iconic jazz standards to exploring improvisation and developing your unique style, Alex guides you in embracing the essence of this timeless art form.
Unlocking the Magic of Performance In New Orleans
The thrill of performing on stage is an integral part of the saxophone journey…
He will nurture your confidence and stage presence…
And help you find opportunities to showcase your skills in various settings, from intimate jazz clubs to grand stages….
Through his guidance and mentorship, you'll unlock the magic of performance…
And share your passion for the saxophone with audiences far and wide.
Learning the saxophone is not just about individual growth.
It's also about doing your part in a vibrant musical community.
When you study with this exceptional NOLA saxophone teacher, you'll…
Connect with fellow musicians
Participate in jam sessions
And immerse yourself in the rich cultural fabric of New Orleans.
The city's storied musical heritage will inspire you and foster an environment where your talent can flourish…
Even if you're not in the Gulf South and would like to study with Alex remotely…
You can still join his no-cost Beginning Saxophonists group on Facebook.
https://www.facebook.com/groups/822725054931296/
Start Your Saxophone Journey Today
If you're ready to take the next step towards mastering the saxophone and playing all your favorite songs with a
Beautifully Resonant
In Tune
Robust Sound…
Simply join his Facebook group in the link above…

Or sign up and download his no-cost Saxo-Starter Guide right here.